The Absolute Sound
Sue Kraft
Van den Hul Array M-1 amplifier
Why, after 20 years of marketing world-class cables and phono cartridges, would a high-end audio manufacturer suddenly decide to introduce a new line of electronics? I decided to let the van den Hul VDH ARRAY M-1 monoblocks speak for themselves. And speak they did, with their own distinctive style and eloquence. In the five years I have owned my Dunlavy SC-IV speakers, I have never heard them throw a more delightfully spacious and airy soundstage when driven by a solid-state amplifier. Come to think of it, I have not heard such wall-to-wall or floor-to-ceiling expansiveness with tubes, either. Whether this is due in part to the M-1's full balanced power design or to an output stage that is equipped with 64 120MHz power transistors (to reportedly eliminate zero-crossing distortion inherent in class AB amplifiers ), I'm not sure. However they managed to work their magic, these unique amplifiers had a remarkable ability to make a pair of towering, coffin-sized boxes vanish into distortion-free air.

As with anything that is not hermetically sealed, I couldn't resist peeking inside the M-1s. Although relatively small in size, I did see those 64 power transistors, divided into eight cascoded sections in parallel (8 x 8 cascode). According to van den Hul, this achieves a -100dB distortion level at just 40dB of local feedback. The Class A transimpedance input stage (without feedback) is double balanced (antiphase) to ensure good common-mode noise rejection and eliminate grounding problems. The chassis close to the signal path is made of non-magnetic stainless steel, while two hefty gold-plated copper WBT 745 speaker terminals provide connection to the loudspeaker. Each back panel also sports a single XLR input connector (no RCA jacks)(*).

The aluminum front panels have warning indicators for voltage and current clipping and mains voltage irregularities. Short circuit, overload, and DC protection is provided by an eight-channel digital-signal-processing substation that is separate from the signal path.

Of the three preamplifiers I had on hand for this review (Plinius M-16, BAT 30SE/50SE, and VDH P-1), I spent most of my listening time with the VDH P-1 passive. It was the only preamp of the trio that wasn't equipped with balanced outputs, necessitating the use of RCA to XLR adapters with the balanced-only M-1 amps. Still, I felt the P-1 had the best synergy, allowing the strengths of the VDH monoblocks to shine through with the least coloration. I was impressed, not only with its performance, but also with the fact that it is the least expensive preamp of the bunch ($2,595).

Although not producing the last word in soundstage depth — I've been quite spoiled by the BAT 75SE amp — the M-1s excelled at presenting a remarkably detailed and almost larger-than-life soundstage. The dynamics and transient response were quite lively on my latest SACD acquisition, Duke Ellington's Blues in Orbit [Mobile Fidelity UDCD 757]. Images were stable and focused, with extended high frequencies possessing a pleasing, easy-on-the-ears quality. With cymbals shimmering and rhythmically dancing through the soundspace, toe tapping became an involuntary reflex.

On the other end of the spectrum, I found the M-1s a little lean in the bottom octaves, as evidenced by a slight lack of fullness and weight in the usually bass heavy Bob James' Playin' Hooky [Warner Bros. 46737]. Perhaps this may have been because the Dunlavy speakers are a bit underpowered by the M-1's 70 watts (into 8 ohms). The yellow clipping indicators on the front panel flickered a time or two, mostly on the symphony crashes in the Titanic soundtrack [Sony Music 63213]. (Did you ever get music lodged in your brain that you just can't get rid of? My inner juke box has been humming that damned Titanic love theme for three months!) The bass could still give the glass in my front windows a rattle — it just would have been nice to have a little more control and authority behind it. Nonetheless, I found the M-1s enjoyable to listen to, noting on many occasions the wonderful sense of air that seemed to envelope each instrument, such as the especially crisp and clean guitar plucks on Chet Atkin's Neck and Neck with Mark Knopfler [Columbia 45307].

I always look forward to comparing equipment. In this instance, I had the opportunity to evaluate the M-1s against a number of different amplifiers, including BAT 75SE, Plinius SA-100 MK3, and Conrad-Johnson 2500. Of the four, the VDH monoblocks were the most resolving and the brightest. I use "bright" here as a comparative term only — in and of themselves, the M-1s are not bright. Although I found the high frequencies a bit dry at times, they were never forward or aggressive. The M-1s were actually impressively linear in tone from top to bottom, with no major hills or valleys. The Plinius and CJ amps were warmer and more "tube-like" in nature, with a smaller, more intimate soundstage. Only the BAT 75SE rivaled the M-1's expansiveness and detail. The M-1s were definitely not in the slouch category for tonal accuracy, either, but here I found the CJ and BAT both more musical.

If you are looking for an amplifier of the space heater variety to keep your toes snuggly on a cold winter's night, you'd best stock up on down booties with these babies. Not only do they lean to the cool side sonically, but if it weren't for the pilot lights on the front panels, you'd be hard pressed to tell whether they were on. After leaving the M-1s powered up for over a month, I found only the faceplates slightly warm — so they're great summer amps! And they weigh in at a svelte 30-some pounds each, so I didn't need an engine hoist to move them around — another plus in my book.

Seek out the M-1s for an audition if you get a chance. If you are partial to a sound that is wonderfully open, spacious, and airy, these van den Hul monoblocks could have your name on them.

The Absolute Sound — Issue 135, April - May 2002
Subscription information:
Please go to the subscription page,
or call: U.S. 888-475-5991 / Outside U.S. + 1-760-745-2809
© Copyright 2002 The Absolute Sound. All rights reserved.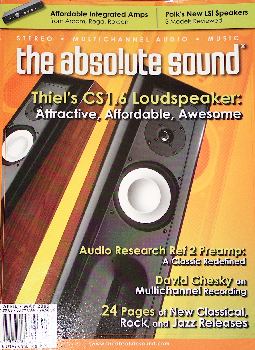 The Absolute Sound April/May 2002
Array: Geavanceerde techniek, audiofiel doorontwikkeld
Reviews:
Music Emotion (PL)
Ruud Jonker (M-10, A-10)

HighFidelity.pl (PL)
Marek Dyba (S-10, A-3)

HIFI.nl (NL)
Max Delissen (S-10)

HVT (NL)
Marnix Bosman (S-10)

HVT (NL)
Bert Oling (PH-2, A-3 en M-2)

HVT (NL)
Bert Oling (A-2, S-1)

MusicHomeStudio (NL)
Ruud Jonker (S)

HVT (NL)
Bert Oling (PH-1)

Positive Feedback (USA)
Francisco Duran, Ed Morawski, Danny Kaey (P-1, S-1)

The Absolute Sound
Sue Kraft (A-1, M-1)

ImageHiFi (Dld)
Michael Vrzal (A-1, M-1)

MusicHomeStudio (NL)
Ruud Jonker (OPAL, GEODE)

HVT (NL)
Ruud Jonker (A-1)

Stereo
Holgar Barske (A-1, M-1)

MusicHomeStudio (NL)
Ruud Jonker (A-1, M-1)

Audio en Techniek
John van der Sluis (P, M)

MusicHomeStudio (NL)
Ruud Jonker (interview)